News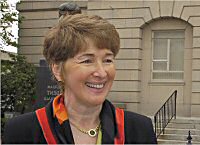 Pignatelli Announces She Will Not Seek Re-Election to the Governor's Council
May 5, 2015
Today, I announce that I will not seek re-election to a fifth term on the New Hampshire Executive Council. Because of a short-term health issue that I am facing, I can't really campaign the way this large district requires. The time has arrived for me to take a break from my work in Concord.
Serving New Hampshire on the Executive Council has been a very rewarding experience, just as was my prior service in the House of Representatives and in the State Senate.
I have always encouraged an open and civil political process that produces fair decisions, small and large. Often, that is more important than the passage of a specific piece of legislation or the casting of a specific vote, and I am most proud of that effort.
It has been satisfying to work on the following:
Representing my constituents and 33 communities in Council District #5 with enthusiasm.
Casting the deciding vote for the feasibility study now underway for commuter rail service between Nashua and Boston.
Playing a role in creating an excellent New Hampshire Judiciary including the naming of Nashua's Linda Dalianis as our first female Supreme Court Chief Justice.
Assuring that New Hampshire has attracted very able Commissioners for our important state agencies, including the Attorney General's Office led by Nashua's Joe Foster.
Working relentlessly on the unfair Merrimack toll situation.
Preventing the installation of tollbooths on the Everett Turnpike in Nashua.
Playing a major role in bringing the Department of Motor Vehicles center to Exit 6 in Nashua.
Being a watchdog for the taxpayers, scrutinizing state contracts and objecting to unnecessary No-Bid contracts.
Supported and voted for the largest solar voltaic array in New Hampshire at Peterborough's Wastewater Treatment Plant.
Worked on efforts to sell the G.A.R. Hall.
Worked on the Main St Bridge and US Route 202 Retaining Wall reconstruction project.
Advocating for programs to prevent domestic violence and family abuse.
Advocating for, and funding, programs which help New Hampshire's children.
Our state government is in very good hands with our able governor Maggie Hassan. It has been my privilege to work with her and five other governors.
I thank everyone who has supported me as a State Representative, State Senator and Executive Councilor over 25 years. It has been a great honor to serve.
"Gender Matters" Op-Ed
November, 2013
The recent shutdown of the federal government was an unnecessary and costly embarrassment. Of course, there are strongly held views in our nation's capital and in every American community. Some of the political issues are difficult ones. That really hasn't changed, though, over the course of American history. There have always been strong differences over how we should govern ourselves.
In an age where we are facing fierce international competition from the likes of China and many other countries, one would think that our federal government should be as united as ever to put our people in the best competitive position. It is folly to think that we can thrive without a strong national government leading us into the future.
And, that brings me to the way in which the government shutdown was finally brought to an end. We can thank many of our female United States senators and congresswomen for communicating with each other and reaching a compromise solution. Time Magazine recently wrote, "Women are the only adults left in Washington." I wouldn't go so far as to say that, but the point is worth noting.
Women make up more than half of the entire population in the United States, but our United States Senate is occupied by only 20% female senators. In Congress it is less – only 17.9%. Many make a case that we need more women representing us in Washington and in all levels of government. Certainly, New Hampshire, with its all female federal delegation, is doing its part.
There is hardly any political issue that does not warrant compromise. We've all heard the old axiom that politics is the art of compromise. That has been in short supply in Washington. For whatever the reason, women in politics seem to have more of an ability to negotiate and compromise than their male counterparts. Surely, at least, the influence of women in the entire negotiation process is important, just as it is to have Democrats, Republicans, and independents contribute to the decision-making.
Not only will our country benefit from higher participation of female elected representatives, so will our states and municipalities. According to the November edition of "Gender Matters," a publication of the New Hampshire Women's Initiative (nhwi.org), New Hampshire women make up 51% of our population, with a respectable 34 percent of our representation in the Statehouse. Women are underrepresented in municipal government, though. We have only 198 women out of 734 elected officials in our cities and towns, only 21% female. Only two of our 13 cities have female mayors.
Over my many years in New Hampshire political office, I have observed the leadership styles of female Governors, female Presidents of the Senate, and female Speakers of the House. Without disparaging the leadership by many fine male elected officials, I have seen the contribution of their female counterparts to a debate process that is less acrimonious, but still effective, and legislation that has strengthened our state.
There is a lot to be said for the contribution made by women in politics. If we could approach the point where the percentage of female elected officials in all levels of government nears the 50% mark, more proportionate to the overall population, I think we will all benefit from it.
Councilor Raymond Burton
November 15, 2013
Sad news to report. Some of you have already heard about the death of Councilor Raymond Burton this past Tuesday.
I have had the pleasure of serving seven years on the Executive Council. I never had a cross word or a bad experience with Ray Burton who served 34. He was a public servant above all else. It was his life and he made the most of it. Ray did his job well, right to the end. We can all learn a lot from him. I know I did.
My seat at the Council table is directly across from Ray. I shall so miss not seeing him when I look across the table. He was the ultimate Public Servant and never forgot who sent him to do the people's job. The north country and all of us Councilors, Governors and staff will miss him. Whoever is next elected to District 1 Governor's Council has some enormous shoes to fill.
Rail to Southern New Hampshire
September 26, 2013
Here is an update on where we are regarding Rail to Southern New Hampshire and beyond. As you may remember, the Executive Council passed a contract this past February to study the costs and benefits of Rail coming to New Hampshire.
The Department of Transportation has held over 50 stakeholder meetings including local officials, local chambers, regional planning commissions, MassDOT, MBTA, local businesses, Amtrak and Pan Am Railways. The Department is currently in the "Developing Alternatives" phase of the project. There are six commuter rail (MBTA style) alternatives, three intercity rail (Amtrak style) alternatives and two express bus alternatives being developed. They will include a variety of routes, stations, and schedule options. This phase will be completed by late fall 2013. The next step will be to evaluate each alternative including ridership forecasts, environmental and economic development benefits, and costs. This will be completed in spring/summer of 2014. A preferred alternative will be established in late fall of 2014.