News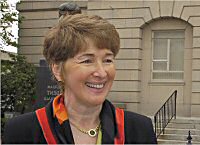 Regarding the Nomination of Jeffrey Rose
March 7, 2013
Debora Pignatelli's comments before the vote to confirm the nomination of Jeffrey Rose to be the Commissioner of Department of Resources and Economic Development:
"I have received a large number of calls and e-mails about this nomination. People know this commissioner will lead one of our state agencies that has broad jurisdiction. This appointment is for only a one year term, and I will vote in favor of Governor Hassan's nomination of Mr. Rose. I will expect to see excellent leadership in all four areas that are equally critical to New Hampshire - Economic Development, Lands and Forests, State Parks, and Tourism and Travel. The next year will call on the best Mr. Rose has to offer in all four area, and I will be a very interested observer on how things go."
Debora Endorsed by The Telegraph
October 30, 2012
I am pleased to be endorsed by The Telegraph.
Their conclusion: "Pignatelli's proven responsiveness to her constituents would be a breath of fresh air after the past two years, when her opponent seemed to forget Nashua was part of his district."
Debora Endorsed by The Keene Sentinel
October 26, 2012
I am pleased to be endorsed by The Keene Sentinel.
I was especially happy that they recognized my efforts to make the Council more open and public - "It's time to restore openness to the Executive Council", as well as my contrast with Councilor Wheeler on the issues.