Executive Council, New Hampshire District 5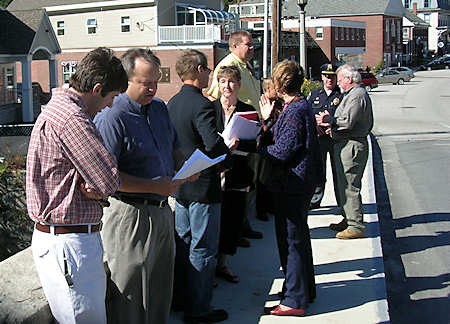 Debora meets with Selectmen, Department of Transportation officials and others to discuss a problem in Peterborough
Greetings District 5 Residents!
I hope you are all enjoying the change of seasons!
The contract limits which require Executive Council oversight were voted on at our last Council meeting. This move has been under consideration and discussion for many months. The limit now goes from contracts valued at $10,000 to the new limit of $25,000. We have yet to change the limit for Personnel (consultant contracts mostly) Contracts. It remains at $2,500 until we have further discussions and vote. I will keep you posted and, as usual, if you have thoughts on this, or anything else we are doing, please feel free to get in touch with me.
I've posted notes of our last meeting.
The next Governor and Council Meeting will be held Wednesday, October 15, 2014 at 10:00 a.m. in the Council Chamber at the State House in Concord, NH.


October 8, 2014