Executive Council, New Hampshire District 5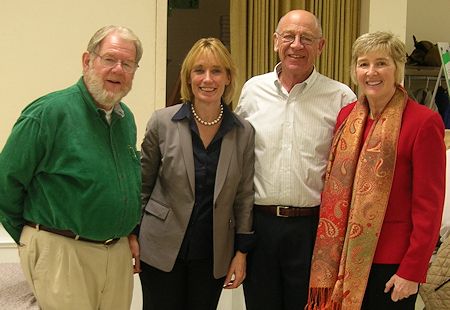 Debora and Graham Smith, chair of the Amherst Democrats, Maggie Hassan, candidate for the Democratic Gubernatorial nomination, and John David, an Amherst activist, visit during the Amherst Democratic Pot Luck dinner recently. The contributed food is always delicious!
Greetings District 5 Residents!
I hope you are enjoying this Labor Day weekend, wherever you are. I am busy preparing for the Labor Day Celebration in Milford and Amherst on Monday. If you will be at the Amherst Democrats Barbeque Monday afternoon, I'd love to see you and visit.
I am also getting ready for our next Executive Council meeting in Keene this coming Wednesday, September 3rd. It will be held in Keene at the Cheshire Medical Center, beginning at 10 a.m. If you find yourself in Keene, it would be my pleasure to welcome you. I am also planning to enjoy lunch with the new(ish?) President of Keene State College and students and welcome her to New Hampshire and the Keene area.
One of our procedural policy votes on Wednesday is to raise (or not) the limit for contracts that come to Council for approval. It is $10,000 right now and the proposal is to raise the limit to $25,000. I plan to support this policy for many reasons. Our agency staff spend roughly the same amount of time to bring us contracts worth $10,000 as they do for contracts worth $1 million and up. The smaller contracts invariably pass with no discussion and our staff time is better spent, I think, on the larger contracts. Another reason is that I believe if the amount is raised, it will make it easier for smaller businesses in my District to bid and obtain contracts with the State. There is a lot of red tape now and many smaller businesses do not want to bother with all the provisions needed for a smaller contract. Let me know if you agree or not and I will take your responses into account before we vote.
I've posted notes of our last meeting. The next Governor and Council Meeting will be held Wednesday, September 3, 2014 at 10:00a.m. in District Two.


August 30, 2014