Executive Council, New Hampshire District 5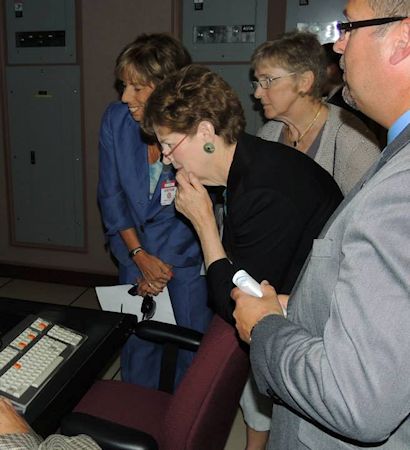 Debora visits the Boston Air Route Traffic Control Center in Nashua with Senator Bette Lasky, Senator Jeanne Shaheen, and Jay Bowers, National Air Traffic Controllers Association National Legislative Committee, New England Regional Chair.
Greetings District 5 Residents!
I hope you all had a good Thanksgiving.
We are at the final end of the GACIT (Governor's Advisory Commission on Intermodal Transportation) Plan and will submit our 10 Year Highway Plan to the Governor to consider on December 4th. She will then give it to the House of Representatives for their input. Then it goes to the State Senate for their suggestions. After it passes the House, the Senate and is signed by our Governor, it becomes the new 10 Year Plan. We Councilors have been working on our version of the plan for the last few months. We went out to towns in our Districts and held Public Hearings, listened carefully to our Regional Planning Commissions and put our stamp on how we think it should look. Our work will be completed this Wednesday when we meet at the Department of Transportation for one final time. I believe it is an attempt to look carefully at our roads, bridges, Turnpikes and Highways. Parts of it remain unfunded, especially our Turnpike improvements, which would need a raise in Turnpike tolls to continue to make necessary improvements. The Council will deal with that at a later date.
I've posted meeting notes of our last meeting on November 20. The next Governor and Council Meeting will be held Wednesday, December 4, 2013 at 10:00 a.m. in the Council Chamber at the State House in Concord, NH.


December 2, 2013