Executive Council, New Hampshire District 5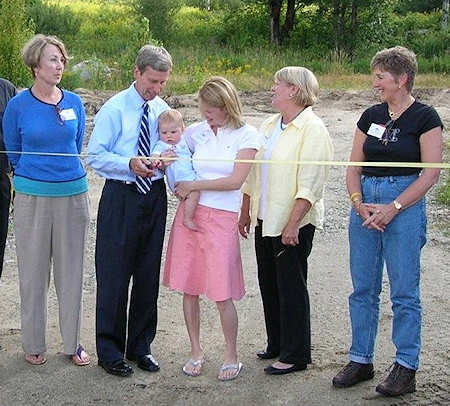 Debora at the Temple Mountain Dedication on August 14. From left, Representative Anne-Marie Irwin, the sponsor of the bill for the state to acquire the property for a state reservation, Governor Lynch, 8-month-old Chase Teeson, his mother Jenna Teeson, and Connie Kieley. Connie and John Kieley bought the Temple Mountain Ski Area in 2002 to save it from development and then sold it to the state
Greetings District 5 Residents!
I've posted Meeting Notes of our last meeting on February 28.
We continue to have a relatively light Agenda. But, that will change as we approach the end of our fiscal year in June. There were just 68 agenda items at our meeting and, as we get closer to the end of June, there will be more than 400 items! Up until our last meeting, a state trooper would bring all our paperwork on each item to our homes the Friday night before the following Wednesday meeting. The package could weigh as much as 25 pounds or more! iPads were recently donated to the Department of Information Technology for us Councilors to receive the Agenda and backup materials on line so we no longer need to waste the Trooper's time or all that paper! I am very pleased with this new, much more efficient, way of doing things.
I trust you are all looking forward to Spring as much as I am.
The next Governor and Council Meeting will be held March 12, 2014 at 10:00 a.m. in the Council Chamber at the State House in Concord, NH.


March 7, 2014