Executive Councilor, New Hampshire District 5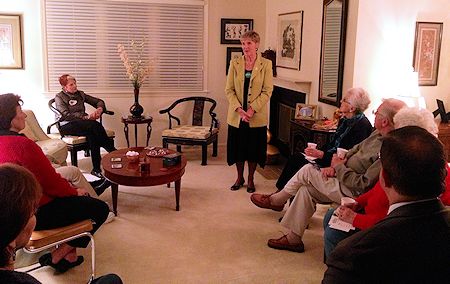 Debora at a house party in Nashua
Greetings, District 5 Residents!
So, another snowstorm! I hope you are all enjoying this early March storm, knowing that it will soon be much warmer and sunnier.
The Governor and Executive Council met on Wednesday, February 20, 2019, in the Executive Council Chamber at the State House, Concord, NH and considered an agenda of approximately 102 items. I've posted Meeting Notes of items I think of interest to our Council District 5.
The next scheduled Governor and Executive Council Meeting will be held on Wednesday, March 13, 2019 at 10:00 a.m. in the Executive Council Chamber at the State House Concord, NH. All our meetings are open to the public and are somewhat interesting, even if I may be a bit biased. Please let me know if you would like to attend so that I can greet you personally.
I've written more about the Council here, if you would like to learn more about this Constitutional body peculiar to New Hampshire.
As always, please feel free to contact me with your thoughts, questions, and suggestions. We need everyone's active civic engagement to make our democracy run well.


March 2, 2019