Former Executive Councilor, New Hampshire District 5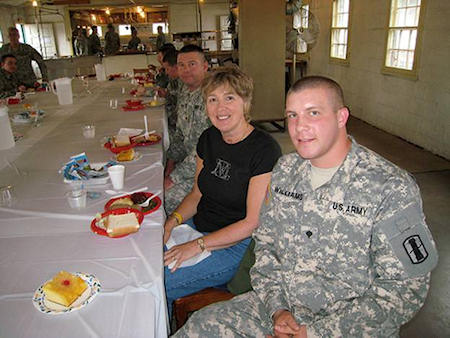 Debora enjoys lunch with several of our soldiers during their training
Greetings, District 5 Residents!
After stepping down from my eight years of service on the Executive Council, I have decided to seek the position once again in the November election. I look forward to campaigning and telling you why I would like to return to the Council.
When I won my election as Councilor in 2004, I was the first Democrat to hold this elective office in over 40 years. It has not been an easy seat for a Democrat to win, but I did so on four occasions, and hope to have your help to be successful again. I also believe we need more, not fewer, women in state government. Presently, the Executive Council is male-dominated. I am the only woman running this year for one of the five seats on the Council.
With my past experience, I know the challenges very well and am ready to go back into public service. That is what it is all about for me.
If elected, you can count on me to push for open government, sensible spending decisions, and good judgment in carrying out the vast duties of the Executive Council in helping our state and people thrive. You can also expect me to be responsive to you and your communities when my help is needed. That has always been a high priority for me in my years of work in the Senate and on the Council.
As always, please feel free to contact me with your thoughts, questions, and suggestions. We need everyone's active civic engagement to make our democracy run well.


April 12, 2018